Golf Course
Site Overview:
Legacy Golf Links
U.S. Hwy. 15-501
Aberdeen, NC 28315

Toll Free: 1-800-314-7560
Phone: 910-944-8825
Fax: 910-944-9416
Golf Resort NO Admission Policy Public Guest Policy N/A Total Holes on Site 18 Courses at This Site 1
Course Information:18 Hole Championship Golf Course
Par
72
Opened in:
1991
Designed By:
Nicklaus Design, Jack Nicklaus II
TEES
Yardage
Rating
Slope
GRASSES USED
Black
7018
73.9
133
Green:
Bent
White
6023
68.9
123
Fairway:
419 Bermuda
Green
4948
68.7
120
Tees:
419 Bermuda
Scorecard DATA & IMAGE
Rough:
419 Bermuda
Seasonal Info
High Season
Low Season

Closed

March - May
Sept. - Nov.
June - Aug.
Dec. - Feb.

Green Fees (wkday/wkend)

call for rates
call for rates
N/A

Cart Fees

included
Course Amenities:
Cart Type:
Electric
Driving Range:
Unlit, Grass Tees
Putting Green:
YES - Two
Pro Shop:
YES - Open 7 days, 7am - dark
Snack Bar:
YES - Open 7 days, 7am - dark
Alcohol Served:
Beer, Wine, Liquor
Caddies:
NO
Bag Storage:
NO
Instruction:
YES
Rental Clubs:
YES
Course Conditions:
N/A
Other Amenities:
Shoe Service
Tee Times:
Times Required:
Suggested
Phone:
1-800-314-7560
When to Call:
7am - 6pm
Other Course Policies:
Walking Allowed:
NO
Coolers Allowed:
YES
Dress Code:
Regular Golf Attire
Course Notes:
Course Record:
64 (Black Tees)
Record Holder:
Pat McGowan (touring pro)
Additional Site Information:
Developed/Promoted by:
N/A
Nearby City:
Fayetteville, NC
Airline Airports:
Raleigh-Durham (RDU), Fayetteville (FAY), Moore County (SOP)
General Aviation:
Moore County (SOP)
Nearby Dining:
Squire's Pub, Beefeaters, Pinehurst Inn, Raffaele's, JFR Barm, Lobsteer
Nearby Attractions:
Harness Racing
Directions:
South of Raleigh on U.S. Hwy. 1, to U.S. Hwy. 15-501, South on U.S. Hwy. 15-501, approximately 3 miles on left
Map to Site
Site Amenities:
Clubhouse:
YES
Restaurant:
YES
Locker Rooms:
YES
Tennis Courts:
NO
Pool:
NO
Lounge:
YES
Real Estate:
COMMUNITY INFORMATION CENTER
155 Legacy Lakes Way
Aberdeen, NC 28315
Phone: 800.609.9892
Fax: 910.944.2550
Email: [email protected]
Click picture for website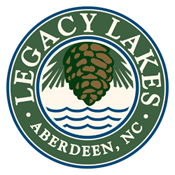 Click on the FREE GOLF PACKAGE QUOTE button below now to get started on building your personalized golf trip to the Pinehurst, Southern Pines and Aberdeen area. The Sandhills of North Carolina is where great golfing memories are made.